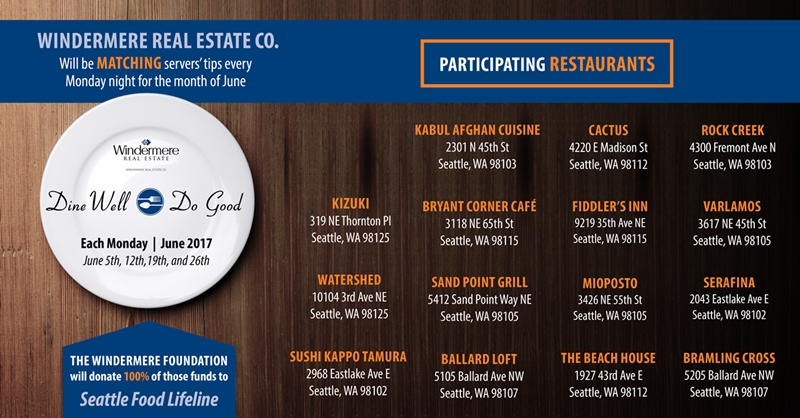 This month Windermere Real Estate Co. has teamed up with neighboring restaurants to Dine Well – Do Good.  Each Monday night in the month of June, Windermere Real Estate Co. is matching tips made to servers – up to $3,000 per night – and 100% of these funds will be donated to Food Lifeline, via the Windermere Foundation.
Food Lifeline is the food bank to food banks. They rescue millions of pounds of surplus food from farmers, manufacturers, grocery stores, and restaurants; then deliver this healthy and nutritious food to 275 food banks, shelters, and meal programs across Western Washington. Through their own ingenuity and clever practices, a single $1 donation can provide the equivalent of four complete meals.
Please join us in supporting local restaurant businesses while also supporting Food Lifeline and the crucial work they do. Browse through the list of participating restaurants and set your Monday night menu for the month of June!
The Beach House
1927 43rd AVE E, Seattle, WA 98112
Ballard Loft
5105 Ballard AVE NW, Seattle, WA 98107
Bramling Cross
5205 Ballard AVE NE, Seattle, WA 98107
Bryant Corner Café
3118 NE 65th Street, Seattle WA 98115
Cactus
4220 East Madison Seattle, WA 98112
Fiddler's Inn
9219 35th AVE NE, Seattle, WA 98115
Kabul Afghan Cuisine
2301 N. 45th Street, Seattle, WA 98103
Kizuki
319 NE Thornton Place, Seattle, WA. 98125
Mioposto
3426 NE 55th Street, Seattle, WA 98105
Rock Creek
4300 Fremont Ave N, Seattle, WA 98103
Sand Point Grill
5214 Sand Point Way NE, Seattle, WA 98105
Serafina
2043 Eastlake AVE E, Seattle WA 98102
Sushi Kappo Tamura
2968 Eastlake AVE E, Seattle, WA 98102
Varlamos Pizzeria
3617 NE 45th St, Seattle, WA 98105
The Watershed Pub & Kitchen
10104 3rd AVE NE, Seattle, WA 98125